Switcheroo Solves a Common Problem
It is a problem that exists in over half of all American households -- a wall switch in a room that turns on an outlet, but not the outlet that you want it to activate.
Whether it is a single lamp that you want to move, several lamps that you want to turn on with one switch, or holiday lighting that you want to sync up on one switch or timer, there is an easy way to fix it, and we call it Switcheroo.
Before Switcheroo, Your Options Were Limited
Sure, you could install a complicated (and expensive) "smart home" system, but what happens when your guests want to turn on a light?
You can call an electrician to re-run your wiring, but the mess and cost involved with that makes it a huge ordeal.
In some cases, extension cords work great. In most cases, they don't. Running an extension across a doorway, up stairs, or into a different room just is not practical.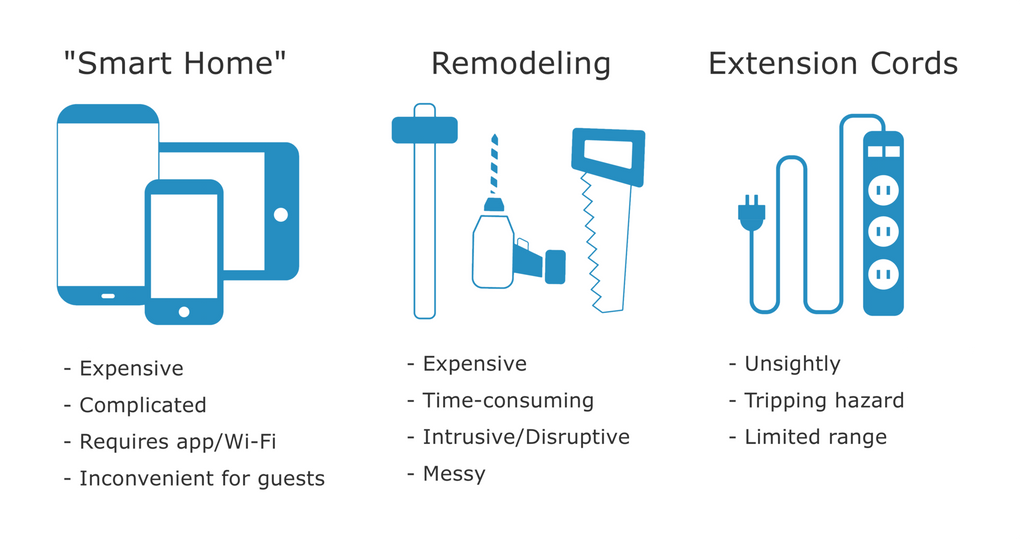 Meet Switcheroo
A new, simple way to re-configure your home lighting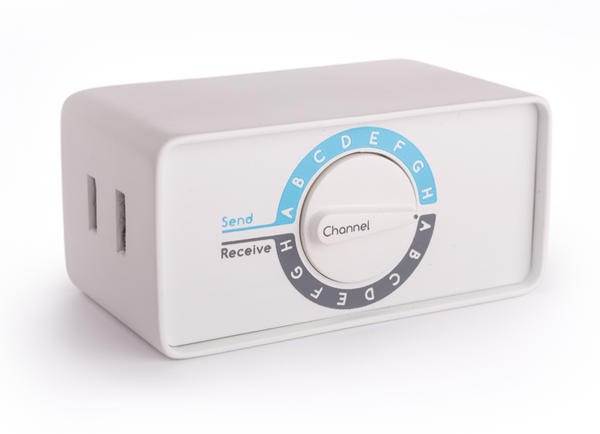 Internet Free

No Wifi or Internet needed to operate.

App Free

Take your phone with you, not your lights.

Plug and Play

Plug in, select a channel, set to send or receive and flick your switch.

Expandable

Scalable to allow for as many devices as you would like on one switch.
How Do I Use Switcheroo?
Simply plug a Switcheroo into your switched outlet, and then another Switcheroo into as many outlets that you want to turn on and off with your existing switch. Set them to the same channel and you are done. Or, use different channels for multiple configurations around your house.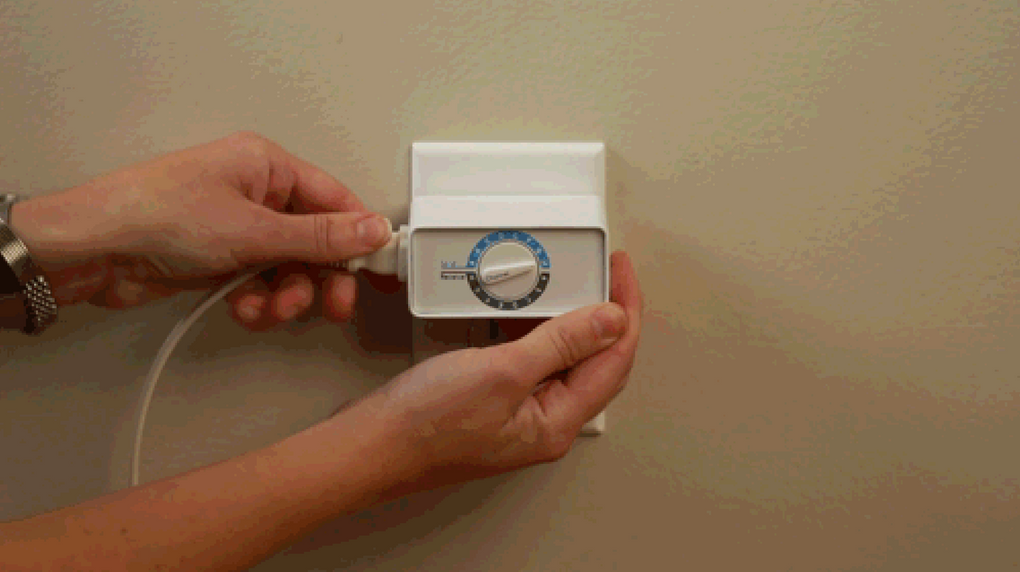 Want to have all of your lights turn on when you walk in the house? No sweat.
Need to turn on lights all around the house with one switch or timer for extra security? Check.
Looking for an easy way to turn on all of your holiday lighting with one switch or timer? Switcheroo has you covered.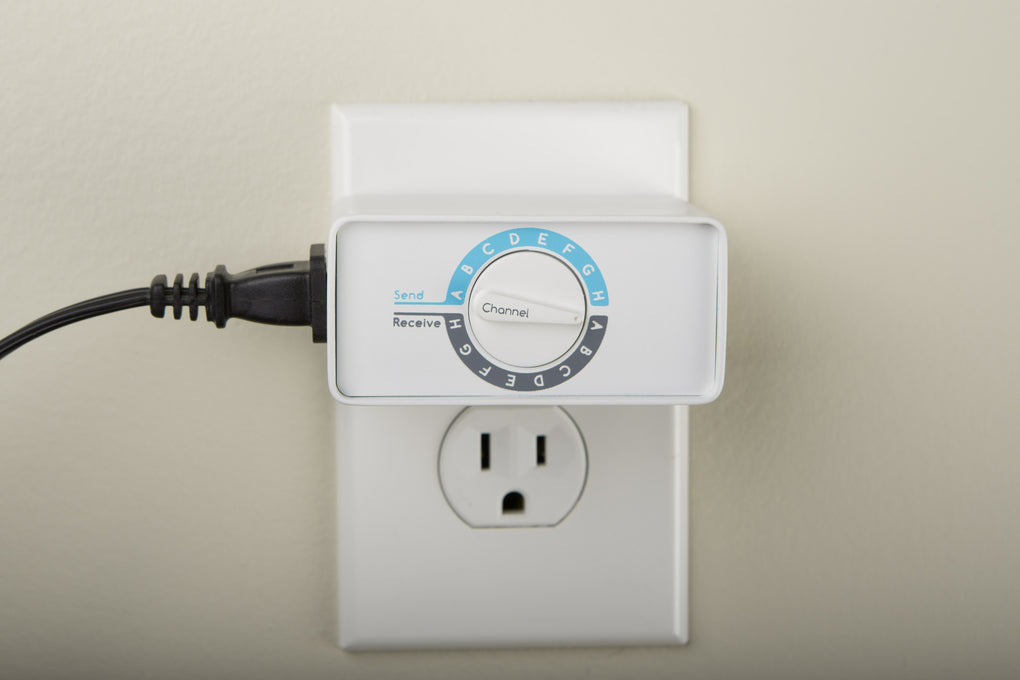 How is Switcheroo Different?
You have probably seen a lot of "smart home" light control devices out there. Switcheroo is different. It does not require an app, which means that Switcheroo doesn't stop working when your Wi-Fi goes out, or when you change your password.
It also means that you don't need to use your phone to control your lights; just your existing wall switches. When guests visit, they don't need to install an app to turn on the lights. After all, your light switches don't belong in your pocket.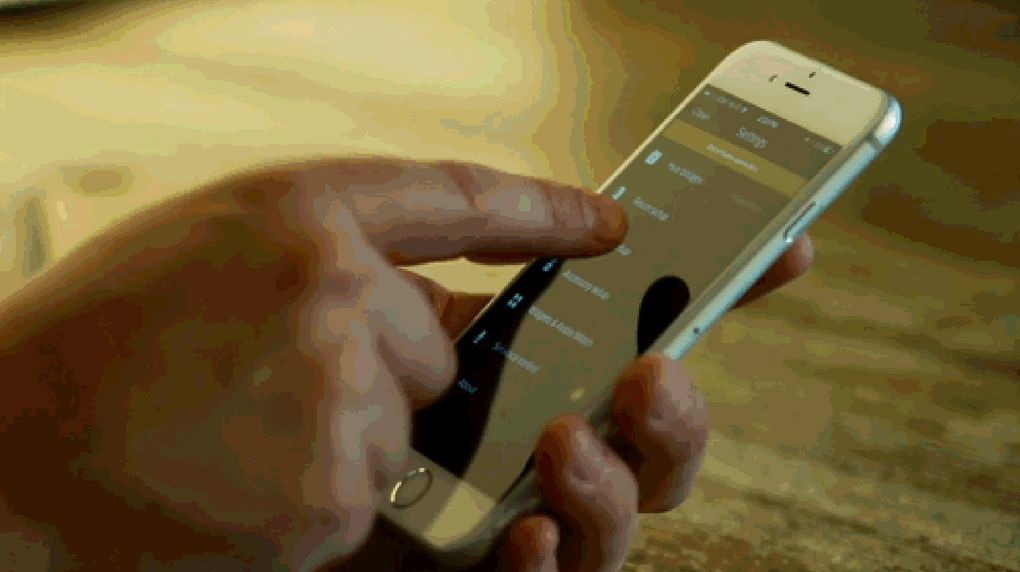 Frequently Asked Questions
What is a switched outlet?
A switched outlet is an outlet in your house controlled by a light switch. Turn the light switch on, and the power to the outlet is on, turn it off, and the power is off. Odds are, you have one somewhere in your house.
NOTICE: Switcheroo will not function connected to a dimming switch. It is against U.S. building code to connect a dimming switch to a standard outlet. Switcheroo will not function and may even fail permanently if connected to a dimmable outlet.
How does Switcheroo differ from all of the other smart home light control apps?
First and foremost, Switcheroo does not require a clunky app to turn your lights on and off. The devices are stand-alone, and all configuration (what little there is) takes place on the devices themselves. That means that if your WiFi goes out or your password changes, Switcheroo continues to work.
Does Switcheroo work with my existing smart-home devices, timers, etc?
Yes! Switcheroo works on any powered outlet, regardless of how it is powered. That means that you can plug Switcheroo into a timer, use it with existing smart outlets, and configure it however you like to manage your home lighting.
What is the range of Switcheroo?
Switcheroo communicates over wireless (radio) signals. As such, Switcheroo generally works well in most typically-sized houses, depending on the layout and construction of the house.
Why is Switcheroo not grounded (three prongs)?
While we are exploring future versions of Switcheroo that can handle other devices down the road, we wanted to keep the size (and cost) of Switcheroo down. We did this by optimizing it for lighting applications, which rarely use a grounding prong and are the most common devices that are turned on and off with wall switches.
Does Switcheroo come with a warranty?
Yes, Switcheroo is guaranteed for life. If you encounter any issues with Switcheroo at any time, use any of the contact methods on this site to request a replacement or refund. No questions asked.